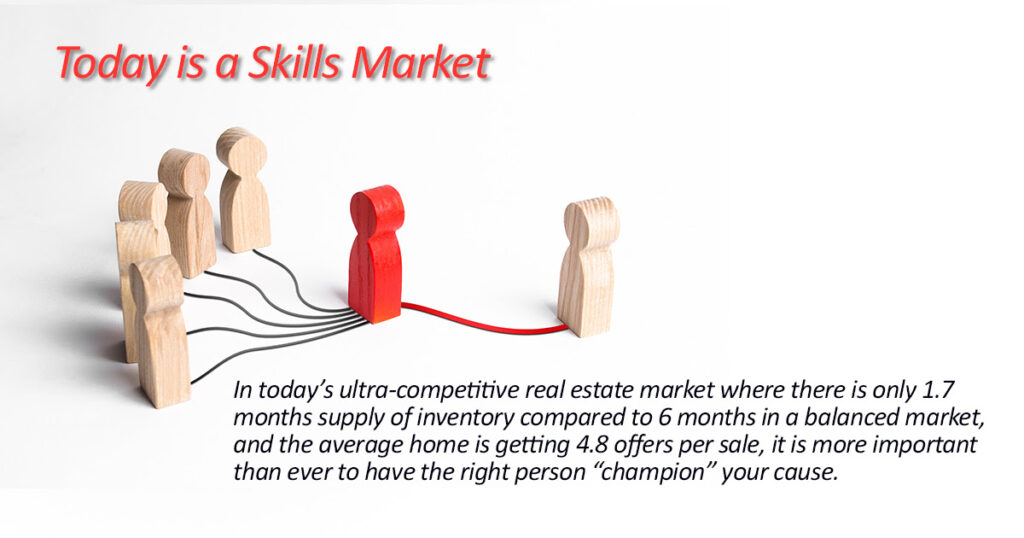 Why Skills Are Needed
In today's ultra-competitive real estate market there is only 1.7 months supply of inventory. Compare this to the 6 months supply in a balanced market. Moreover, the average home is getting 4.8 offers per sale. It is more important than ever to have the right person "champion" your cause when purchasing real estate. And that's why there are high-level skills needed in today's real estate market.
Sellers' and buyers' objectives are different and, in many cases opposing in nature. Sellers attempt to get the most money for their home. They also want to minimize expenses and avoid any issues that could cause delays. Buyers want to be treated fairly and have an opportunity to buy the home of their choice. They also want to take advantage of the protections of normal contingencies for things like mortgage approval and inspections.
In most situations, there are two real estate agents involved in a single sale. You want your champion to be the most capable person available. Furthermore, you want them to have the skills needed in today's real estate market
What Type of Skills Are Needed in Today's Real Estate Market?
There are skills that agents need in today's market. One of the most important is the ability to conduct negotiations. Regardless of which side of the fence you're on, your agent needs to be skilled in negotiating on your behalf. Remember, every part of the contract is a negotiation. This starts with the price then continues to the other financial complex financial and transaction agreements involved with the purchase. What's a reasonable amount of earnest money? Can the sale be "as is" yet still allow buyer inspections so you cqn be fully aware of what you're buying? Will the buyer provide a CLUE report for the property? [Read our post about CLUE Reports. Then click here to learn more about CLUE Reports.]
The buyer wants to negotiate the best terms possible with the seller. They are depending on their agent to work for them to get them. The home inspector is hired by the buyer to determine the condition of the home. The inspector and will point out what repairs are necessary. Your agent will help you negotiate who pays for those repaires.
Your lender hires an appraiser to determine the value of the home. This is because the loan will be secured by the property. Recent sales can be used as comparables. But they trail the market. This becomes a challenge in rapidly appreciating markets, especially, when there are multiple offers.
Consider Legal, Ethical and Personal Aspects of the Sale
And since multiple offers are the norm currently, agents must know how best to handle them based on the seller's or buyer's perspective. There are legal and ethical procedures that must be followed. But an agent's experience can contribute to creating a more favorable outcome.
The skilled and experienced negotiator understands that every transaction is different because of dealing with individuals, their families, their needs, and their emotions. The role of the third-party negotiator can be invaluable to the success of the transaction. This is not only based on their experience but the juxtaposition to the principals and their objectivity of trying to reach a compromise.
Let Sound Investments be your skills champion. Click here to see what we can provide for you when looking to purchase a new home or other property.