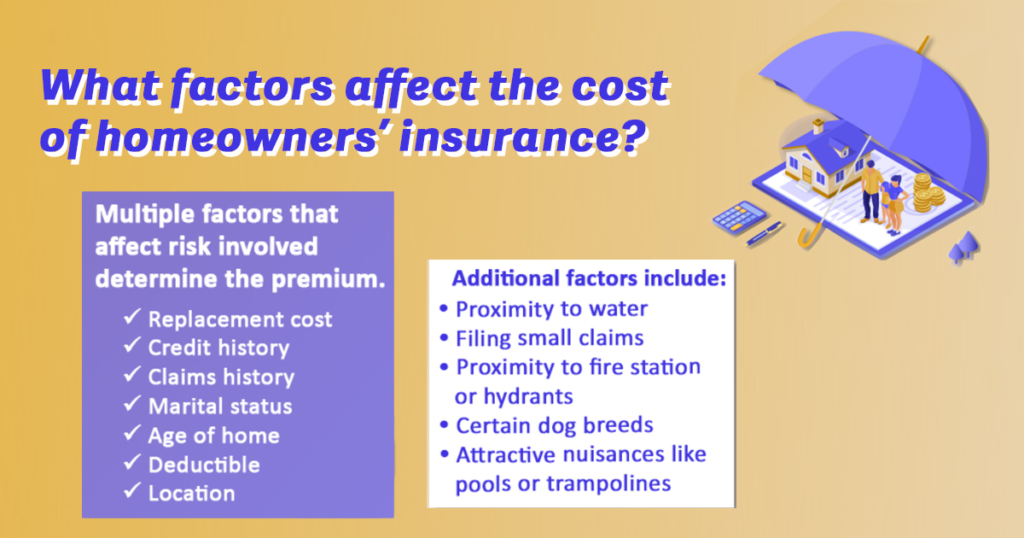 According to Bankrate, the average cost of homeowners' insurance in the United States for $250,000 in dwelling coverage is approximately $1,400 per year. Your rate could differ since rates are typically calculated based on various home insurance cost factors.
Other well-known factors, such as its location, also impact your rate. However, there are other, lesser-known factors that affect rates as well. These include the type of claims you have filed, or how close you are to a fire station. These may affect your insurance premiums as well as your eligibility with some companies. Understanding what factors are used to determine your rates is helpful in determining what homeowners' insurance company and coverage options are right for you.
WHAT IS DWELLING COVERAGE
Dwelling coverage is the portion of your homeowners insurance policy designed to cover your home's structure. You may be asked to choose whether you want this coverage at replacement cost value or actual cash value. This may impact your premium. Replacement cost value provides coverage to rebuild your home and replace your belongings at today's costs. Actual cash value factors in depreciation and pays out to rebuild or replace items at their current value. Choosing replacement cost value will likely increase your premium but will provide more financial protection in case of a covered event.
FACTORS THAT IMPACT YOUR HOMEOWNERS' INSURANCE RATE
Risk Assessment
A risk profile conveys the likelihood your property will experience a covered event. If you live in an area where the chance of a claim is higher, your home insurance rates will likely be higher. If your house is located in an area with a higher history of negative events, such as vandalism, theft or weather-related events, you may experience a higher premium. Location is also often used when determining replacement costs for your home. This is because construction costs, including labor and materials, vary depending on region.
Physical Attributes
Physical attributes of your home affect your homeowners' insurance premium. This includes factors like the age of your home, structural materials used and square footage.
Claims History
Insurance companies often consider any previous claims you have filed within a certain timeframe. They generally assume that homeowners who file claims are more likely to file future claims. If you have a history of filing insurance claims, insurance companies may consider you a greater future claims risk. This is true even if the dollar amount of your previous claims is small. This may include your claims history at both your current and prior properties. Therefore, even if you're insuring a new home, your prior claims history from other homes may impact your new policy and affect your rates.
Other Factors
Marital status, age of home and your level of deductible also affect your rate. Typically, the older your home is and the lower your deductible is will increase your rates. Insurance companies differ with how they treat marital status. It is good practice to check how that factor affects your rates when picking an insurance company. In many states, your credit score can affect home insurance rates. However, in California it is no longer legal to do so.
SURPRISING RATE IMPACT FACTORS
Distance from Water
The closer a home is to the coast, the more likely it is to experience flooding or hurricane damage. This tends to increase the cost of insurance. Flood zones are important determinants in whether or not you should have flood insurance. If you have a federally-backed mortgage, like an FHA loan and your home is in a high-risk flood zone, you're required to have flood insurance.
Distance from a Fire Station
The premiums you pay for home insurance are likely to be impacted by how close your home is to a fire department and fire hydrant. The closer you are to a fire station and hydrant, the greater the likelihood a fire can be extinguished quickly. This reduces the risk for severe damage, and/or the complete destruction of your home. The insurance industry generally uses the Fire Suppression Rating Schedule (FSRS) from the Insurance Services Office (ISO) to determine your home's fire risk.
Dog Breeds
Having pets may also impact your rates or even your eligibility with some insurance companies. This is especially true for certain dog breeds and exotic animals. Some companies raise your rates to account for an increased 'bite risk.' Moreover, a bite history could also raise your rate or ability to get coverage, even if your dog isn't a 'restricted breed.
Attractive Nuisances
Attractive nuisances are items on your property that could be potentially dangerous and appealing, especially to children. This could include items such as swimming pools or trampolines. If your home has any of these, you may also see higher homeowners' insurance rates or eligibility restrictions.
BEST HOMEOWNERS' INSURANCE COMPANY
The best homeowners insurance company will likely not be the same for everyone. Most insurance professionals recommend starting by reviewing which carriers offer the coverage options you need, positive customer service ratings, strong financial strength ratings and discounts. From there, you can get quotes from top companies and compare to find which company might be best for your circumstances.
This post is just a snapshot of things that go into determining how much you will pay for insuring your home. There are many factors that affect homeowners insurance premiums, including ones that are not mentioned here. But one thing is certain, having adequate homeowners' insurance is critical in protecting your family's investment and having a place to live. If you haven't checked your homeowners' insurance policy recently, it is a good idea to do so. Find out if your insurance covers total replacement of your home at today's costs. If your homeowners' insurance rates were set at a level that simply pays out at rate where your home's value was lower, you want to change that as soon as possible. If you don't, any money you have saved in premiums may be more than lost when a catastrophic event forces you to rebuild.
And don't forget having a recent "home inventory." CLICK HERE to read our blog outlining Homeowners 2023 resolutions and steps you should take to make sure your belongings are also replaced in case of catastrophe.